Feeling Is Believing - G-Rip FL-1
The new FL-1 putter grip combines G-Rip's innovative technology and use of high performance materials to help golfers of all abilities get more feel into their putting game and help lower their scores.
Lightweight Microfibre Material
Weighing a very light 53 grams, the G-Rip FL-1 features a lightweight EVA under-listing, coupled with a unique V-Shape design.
The key to the FL-1's enhanced performance is a lightweight EVA under-listing with a microfibre cover. The putter grip cover features hundreds of tiny silicone buds on the surface, which create more points of contact with the hands, for an enhanced grip. FL-1's unique moisture repelling properties ensure it is effective in all weather conditions.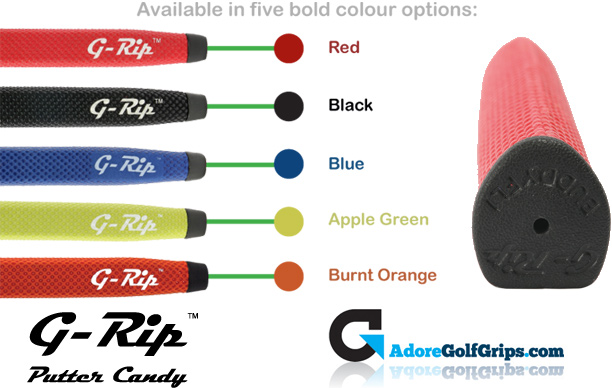 Available in a choice of 5 bold colours: Red, Blue, Black, Burnt Orange and Apple Green.
FL-1 Increased Feel
The FL-1 increases feel and grip in all weather conditions with a unique silicon bud surface pattern, this encourages even grip pressure.
Unique Triangular Shape
Fitting neatly into the palms of the hand, the V-Shape at the back of the grip helps golfers put their hands consistently into the correct position. The triangular profile allows a more repeatable putting stroke, better control, resulting in more holed putts.
FL-1 Slip On Design
MP-1 putter grips have a traditional installation process. Simply use double sided tape and golf grip solvent to apply. Installation guides www.adoregolfgrips.com/faq.
Golf Grip Specifications
Brand:

G-Rip

Model:

FL-1 Jumbo V-Shape Light

Gender:

Unisex

Weight:

53g

Size:

Round 0.600

Colour:

Burnt Orange