Get A Grip Or Walk The Plank You Scallywag
Get this grip or walk the plank you scallywag! No bones about it, this grip is one of the fiercest on the market. Who needs a treasure map when you can plunder a birdie or two with the Jolly Roger grip on your putter.
The newest LoudMouth grip design, in the tour proven RD3 shape!
The RD3 Loudmouth Jolly Roger Jumbo putter grip incorporates the exceptionally tacky feel that Loudmouth fans have become accustomed to.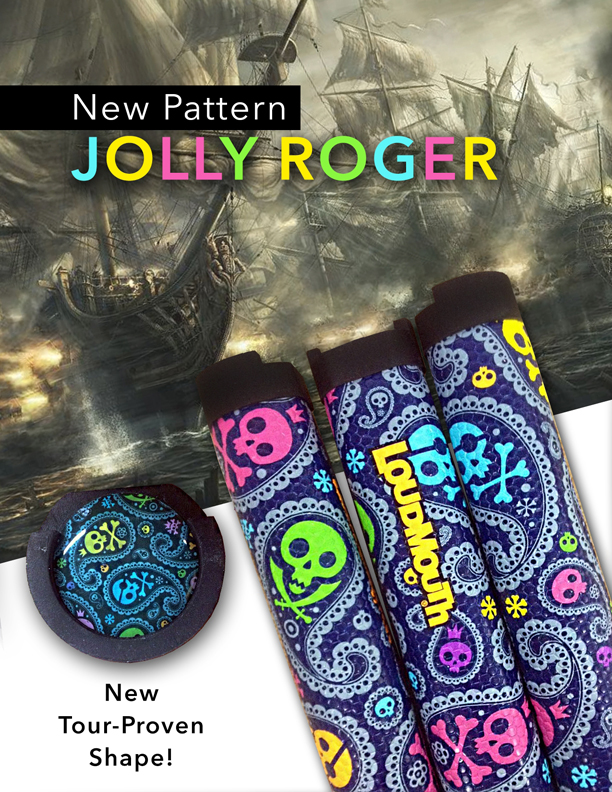 Loudmouth putter grips are the perfect combination of feel, function and style. Each Loudmouth putter grip incorporates an earth magnet ball marker in the butt of the grip, which stays firmly in place when in your golf bag. This is unique to Loudmouth and an added benefit from an already excellent putter grip.
Loudmouth is endorsed by Big John Daly.
RD3 Jumbo - Unique Reverse Dimple and Reverse Taper Technology
TourMARK have added a superb new grip to their popular range of ball marker grips. The RD range boasts an innovative, lightweight reverse dimple texture that improves traction between the hand and club by increasing the surface area of the grip. This superb feature also reduces grip pressure, whilst allowing sweat and moisture to escape through the dimple channels.
The reverse taper profile is 13% wider in the lower grip hand, facilitating improved stability and comfort.
RD3 Jumbo - Grip Key Facts
1 2/8" or 31.75mm Diameter Grip Profile Butt End.
1 3/8" or 34.90mm Diameter Grip Profile Shaft End.
10.50" or 266.50mm Grip Length.
Golf Grip Specifications
Brand:

TourMARK - Loudmouth

Model:

RD3 Jolly Roger Jumbo

Gender:

Unisex

Weight:

75g

Size:

Round 0.600

Colour:

Navy Blue / Grey