JumboMax STR8 Tech Non-Tapered JMX UltraLite Series Jumbo (X-SMALL +3/16") Grips - Black / Blue / Red
JumboMax
SKU:
JM-S8JJ-JUM-60RND-KB
JumboMax STR8 Tech™ JMX UltraLite Now With Non-Tapered Grip Technology
The JumboMax STR8 Tech™ JMX UltraLite Non-Tapered Grip combines legendary JumboMax game improvement with a non-tapered profile to maximise lower hand feel and face angle awareness.
A non-tapered grip decreases grip tension. Developed with input and real world testing by some of the world's best instructors and tour professionals.
**Note - The STR8 Tech Non-Tapered JMX UltraLite Series DOES NOT Accept The Cobra Connect™ & Arccos Caddie Smart Sensors**
Sync It Up & STR8 Feel
STR8 Tech is available in three different models to help every golfer take advantage of its non-tapered construction. Its larger lower hand size provides maximum power and delivers unparalleled club face control. Available sizes are, X-SMALL +3/16", MEDIUM +5/16" and X-LARGE +3/8".
Sync up your grip pressure with STR8 Tech, the non-tapered swing grip from JumboMax.

There are benefits to using a grip with a larger lower hand area. The STR8 Tech takes these benefits to the extreme with a super oversize, non-tapered grip surface that's the same size from top to bottom.

STR8 Tech is the same size throughout the gripping surface, the grip will feel the same whether you choke up or choke down. It's also a great choice for golfers who use alternative grips such as the 10 finger style, which puts more of your hand's surface in contact with the grip.
STR8 Tech Vs Tapered
JumboMax STR8 Tech grips have a smaller butt diameter than other JumboMax swing grips, however, the diameter of the gripping surface is the same. For this reason, the butt section of a STR8 Tech grip will feel smaller than the same size in a tapered JumboMax grip, but the lower section of the grip will feel larger.

**Grips Pictured Are MEDIUM +5/16".**
What Bryson Says
"I'm all about removing variables, and that's exactly what the STR8 Tech does. Think of someone who struggles with a snap hook. More often than not, the issue is an overactive bottom hand. By increasing the overall size of the grip and keeping the size of the bottom hand area consistent, we often see golfers resolve this issue with STR8 Tech because a golfer can finally sync up their grip pressure.

A lot of golfers who come from other sports like baseball or tennis also just love this grip. Why shouldn't they feel the same thing in their golf grip that they felt in other sports?"
Lighter Due To Manufacturing Innovations - JMX UltraLite Series
The JMX UltraLite Series are a breakthrough in golf grip technology offering the same stability and control of the patented JumboMax grips at around half the weight. Not possible until recent manufacturing innovations, the JMX UltraLite Series of grips are for the player who wants all the stability and control of oversized grip technology, while retaining the feeling of more weight in the club head.
Tri-Texture™
The JMX UltraLite debuts Tri-Texture™ with specially designed surface details placed in specific areas of the grip to boost performance and feel in all weather conditions.
Larger Grips for Longer Shots & Incredible Accuracy
The patented JumboMax grip gives you a stronger, yet more relaxed grip on the club for longer shots and incredible accuracy. The performance characteristics of JumboMax Grips are achieved through a twist-resistant, high-energy transfer core, while the ultra-tacky, shock-absorbing outer layer enhances feel and playability in a variety of weather conditions.
The Patented JumboMax grips are designed to provide you with:
Better Control & Accuracy
Faster Clubhead Speed
Increased Distance
More Confidence
Shock Absorbing Technology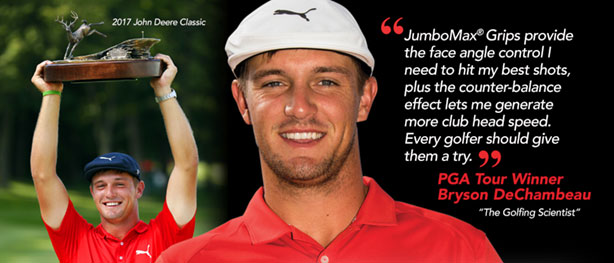 JumboMax Grips can quickly and dramatically improve the way you play the game of golf. Independent tests by GolfTest USA and Golf Etc. showed that in nearly every category tested, from club head speed, launch angle, side spin, back spin to carry distance, JumboMax Grips beat standard golf grips. Once you try them you'll never want to go back to a "skinny" grip again.
Patented. Conforms with USGA Rules.
5 years in development and testing, JumboMax Grips can make an immediate improvement in your golf game.
In head-to-head testing by Golf Etc. of America, and GolfTest USA, golfers increased their driver carry distance by an average of 10 yards, reduced slice spin, increased ball speed, improved launch angle and gained accuracy.
In 73% of categories tested, JumboMax Grips beat standard grips!
JumboMax® Grips are designed to fit your hands better for more solid ball striking. Our Finger-Palm™ technology places the grip in the strongest, most stable part of your hand while promoting a relaxed grip on the club for a more fluid and powerful swing.
JumboMax Grips eliminate tension for faster clubhead speed. Golf instructors universally agree that the fastest way to ruin a good golf swing is by gripping the club too tightly, or by increasing grip pressure during the swing, which prevents the club from releasing at impact. Our Finger-Palm technology instantly gives you a more secure hold on the club, so you don't feel the need to squeeze. You'll relax your grip on the club freeing your hands and arms to release the club naturally, giving you the fluid, effortless and powerful swing you need. You'll find it easier to keep the clubface square longer through impact for straighter, more powerful shots.
How do JumboMax compare to standard grips?
The golf industry does have a standard for measuring grip sizing on non-putter grips. Measuring 2" below the grip end cap, the diameter of the grip is recorded.
The following chart compares the diameter 2" below the grip end cap for various grip sizes.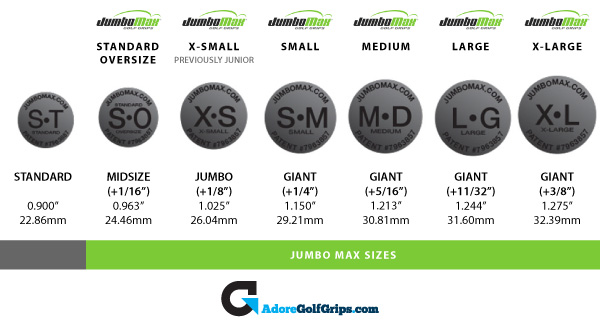 Play and practice longer with less shock on your joints.
JumboMax Grips outperform standard grips for distance and accuracy and have the added benefit of being extremely shock-absorbing. If you experience pain during or after golf or have arthritis, you will really appreciate our super-oversized, shock absorbing technology.
Yes, these grips are for you.
From novices to advanced players, everyone can benefit from the secure, yet relaxed grip provided by JumboMax Grips. They will quickly and dramatically improve the way you play the game of golf adding to the enjoyment of your game.
Frequently Asked Questions
Enjoy the comfort, playability and lower scores you'll get with JumboMax Grips.
Extensively tested by golfers of all abilities, and confirmed by GolfTest USA and Golf Etc. of America, JumboMax Grips are quickly developing an incredible following. Golfers are experiencing better control, increased distance, more confidence and are just having more fun on the golf course!
How to determine your JumboMax Grip Size
Use the golf glove cross-reference chart below to help you select the best size JumboMax Grip for you.
Men's Golf Glove Size
JumboMax Grip Size
Grip Diameter (Mid-point)
Grip Diameter (Butt)
Small or Medium Cadet Glove
STANDARD OVERSIZE (+1/16)
or X-SMALL (+1/8)
.90"
.95"
1.12"
1.18"
Medium Glove
X-SMALL (+1/8")
or SMALL (+1/4")
0.95"
1.02"
1.18"
1.25"
Medium-Large Glove
SMALL (+1/4")
or MEDIUM (+5/16")
1.10"
1.07"
1.25"
1.32"
Large Glove
MEDIUM (+5/16")
1.07"
1.32"
X-Large Glove
MEDIUM (+5/16")
or LARGE (+11/32")
1.07"
1.10"
1.32"
1.38"
XX-Large Glove
LARGE (+11/32")
or X-LARGE (+3/8")
1.10"
1.13"
1.38"
1.40"
XXX-Large Glove
X-LARGE (+3/8")
1.13"
1.40"
| | | | |
| --- | --- | --- | --- |
| Women's Golf Glove | JumboMax Grip Size | Grip Diameter (Mid-point) | Grip Diameter (Butt) |
| Small or Medium Glove | X-SMALL (+1/8) | .95" | 1.18" |
| Large or XL Glove | SMALL (+1/4") | 1.02" | 1.25" |
| XX-Large Glove | MEDIUM (+11/32") | 1.07" | 1.32" |
Golf Grip Specifications
Brand:

JumboMax

Model:

STR8 Tech Non-Tapered JMX UltraLite Series Jumbo (X-SMALL +3/16")

Gender:

Men's

Weight:

42g

Core Size:

0.600 Round

Colour:

Black / Blue / Red