The non-taper putter grip market is becoming very competitive. For the past few playing seasons SuperStroke have been the market leader with the Slim 3.0 and Mid Slim 2.0. The prize money that players on tour have won using SuperStroke grips is quite staggering, however the new Pure Grips The Big Dog Jumbo Putter Grip is something to rival the SuperStroke Mid Slim 2.0 putter grip.

Pure Grips The Big Dog is available in 7 striking colours - offering a colour way for the tastes of all golfers. The feel of The Big Dog is superb. This putter grip is soft and tacky to touch. The profile of the grip at 1.10" is almost identical to that of the SuperStroke Mid Slim 2.0, which has a diameter of 1.20" and fits perfectly into the palm of your hands.

The Pure and SuperStroke offerings both have a core size of 0.580. However, where the two grips vary is in weight and material used for construction. Superstroke putter grips have a PU construction, and generally last quite well.
The Big dog has a full rubber construction. By using the same proprietary PURE Tack rubber compound found in all our Pure grips, The Big Dog is extremely durable, allowing the grip to be easily cleaned and washed, which will may allow the grip to last far longer.

Rubber putter grips often withstand heavy/frequent use very well without showing signs of wear or scuffs from being repeatedly transfered in and out of your bag.

The Big Dog's weighs in heavier, at around 117g compared to only 50g for the SuperStroke Mid Slim 2.0. When applied to the putter, The Big Dog does make the putter head feel slightly lighter in the hands of the golfer. However, this may be a feel that the player likes and is trying to achieve. If this was not the case a simple strip of lead tape will counteract this lighter feeling in the head.
PURE say:

"The Big Dog puts some weight in your hands and delivers a counter balance effect that increases the stability of the club head throughout the putting stroke."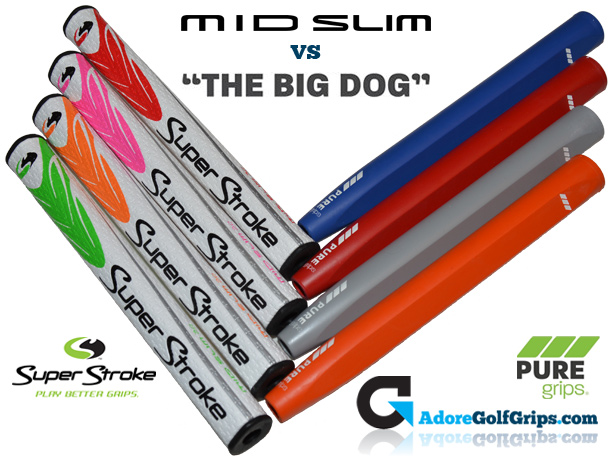 Cost is a major influence for many players. With an RRP of £19.99 for The Big Dog, compared to an RRP of £29.99 for the SuperStroke Mid Slim 2.0, the price of the Pure putter grip will turn the heads of many golfers.

SuperStroke will continue to be the market leader in the non-taper putter grip market, however Pure Grips The Big Dog Jumbo Putter Grip should certainly be considered by any golfer looking to try a non-taper putter grip.
Who Would Use The Pure Big Dog Jumbo Putter Grip?
The Big Dog is the ideal putter grip choice for golfers who play multiple rounds per week and will love the extra durability of the rubber construction.

Golfers who would prefer a lighter feel in the putter head.